Digital Opportunities
Bristol Motor Speedway and Dragway has many digital opportunities to connect with our amazingly loyal fan base.
They include:
Bristol Motor Speedway Website
You are looking at the new Bristol Motor Speedway website which boasts more than 5 Million Visits per year and a slick, mobile responsive user interface.
Advertisers have the ability to select certain pages or a "run of site" package for their business. Since the new design, advertisers have seen click through rates climb significantly.
---
Bristol Motor Speedway App
Bristol Motor Speedway's app combines ease of use which incredible information and content. Opportunities include primary sponsorship of the app to individual sections. Gain a deeper connection to our fans with custom polls and more.
---
EMAIL Marketing
Email marketing is the #1 way our fans like to be communicated with and with over 250,000 people in our database and growing, corporate promotions and information are vital to enhancing the experience of our guests.
---
Social Media
Whether it's Facebook, Twitter, YouTube, Snapchat or Periscope, our Social channels are highly engaged community connection points.  Our corporate clients enjoy access to our growing legion of fans.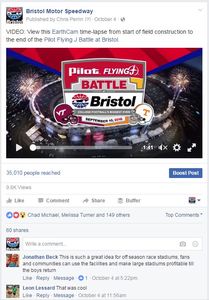 ---
To explore these opportunities further, please contact Lyndsay Whitmore in the Corporate Sales Department today!