The stars of the NASCAR Cup series descend on Bristol Motor Speedway for the Food City Dirt Race. This year, The Last Great Colosseum will add yet another historic moment as BMS. Don't miss any of the action by experiencing all the thrills in person.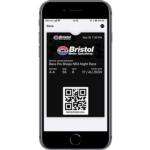 Mobile Tickets with the BMS App
With paperless ticketing you are able to enter without the need of a physical ticket. No more worries about losing a ticket or realizing you left your ticket at home. You can now use our mobile Bristol Motor Speedway App, available free from the Apple App Store and Google Play Store. The ticket taker will scan it as if it was a physical ticket, and you're in!