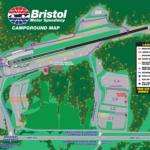 Camping sales on Bristol Property are now over for this event. Enjoy the All-Star Race!
Information:
Campgrounds will open Tuesday, July 14th at Noon and close Thursday, July 16th at 10:00 am.
The following information should be considered when purchasing a campsite:
Shuttles to and from the campgrounds will not be offered.
Restrooms will be available, but shower house facilities will remain closed.
RV camping only. No tent camping spaces available.