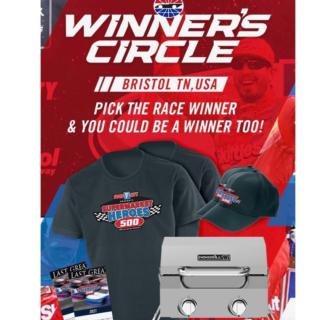 Thursday May 28, 2020
This weekend, Bristol Motor Speedway is giving race fans a chance to get cool prizes with its new "Winner's Circle" promotion. The challenge is simple and the potential rewards are awesome: Bristol Motor Speedway fans that enter the Winner's Circle contest and predict the driver that will be in Victory Lane for Sunday's Food City presents the Supermarket Heroes 500 will be eligible to win great gifts.
Recent Headlines
05/28/20

NASCAR Xfinity Series star Chase Briscoe has the momentum heading into this weekend's Cheddar's 300 presented by Alsco at Bristol Motor Speedway. On Monday night under the lights at The Last Great Colosseum, the green flag is scheduled to drop at 7 p.m. with live coverage on FS1 and PRN.

05/26/20

Bristol Motor Speedway and Food City officials announced today a fitting new event name for Sunday's NASCAR Cup Series race at The Last Great Colosseum, The Food City presents the SUPERMARKET HEROES 500. From the cashiers to the stock room workers to those in the fresh departments, along with the truck drivers who transport the food and supplies across the country, Food City will honor all of those who work directly assisting customers and the thousands more behind the scenes with the Food City presents the SUPERMARKET HEROES 500.

05/26/20

As the 2010 decade rolled into Bristol Motor Speedway a new pack of hungry young lions emerged on the NASCAR Cup Series scene ready to find their way to Victory Lane at The Last Great Colosseum. One of the major storylines that was most significant at the World's Fastest Half-Mile in the 2010s was authored by California native and multi-time Cup Series champion Jimmie Johnson, driver of the No. 48 Hendrick Motorsports Chevy.

05/25/20

When NASCAR legend Rusty Wallace thinks about his days at Bristol Motor Speedway, his head is filled with visions of personal milestones, checkered flags and record-setting performances. You see, Wallace and The World's Fastest Half-Mile fit together like a strong hand inside a sturdy glove. They were simply better together.

05/25/20

A late caution set Brad Keselowski up for victory in NASCAR's longest race—and set Chase Elliott up for a second straight crushing disappointment.
More News