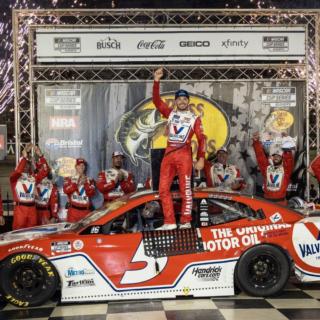 Sunday September 19, 2021
Kyle Larson celebrated victory in Saturday's Bass Pro Shops Night Race with a burnout on the frontstretch at Bristol Motor Speedway, as tempers flared between Kevin Harvick and Chase Elliott on pit road.
Read More
Recent Headlines
09/18/21

The Bass Pro Shops NRA Night Race will have its traditional pre-race offering of driver intro songs tonight to pump up the crowd at Bristol Motor Speedway before the green flag drops on the Round of 16 NASCAR Cup Series Playoff race.

09/17/21

With cars bouncing off each other like pinballs through two laps of overtime, AJ Allmendinger took his No. 16 Kaulig Racing Chevrolet three-wide to the bottom, passed Justin Allgaier and Austin Cindric on the final lap and won Friday night's Food City 300 at Bristol Motor Speedway.

09/17/21

Caleb James Cate, a freshman at the University of Northwestern Ohio (UNOH) is the winner of the $2,088 Dale Earnhardt Jr. scholarship, established by Bristol Motor Speedway in 2017 to honor the retired NASCAR Cup star. Cate was selected from more than 75 students from 11 different colleges and universities who applied for the scholarship this year.

09/17/21

Two Olympic Medal winners with ties to the Appalachian Highlands region who competed at the recent Summer Games in Tokyo have been named Bristol Motor Speedway Neighborhood Heroes, it was announced today. 
More News