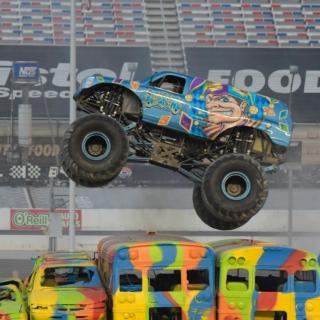 Friday June 18, 2021
There have been many memorable moments that have taken place on the backstretch of Bristol Motor Speedway over the years. On Friday night, the dudes from Dude Perfect had a smash-banging good time on the iconic racetrack during their special Chaos at the Colosseum event, which was presented by Food City, Coca-Cola and BODYARMOR.
Read More
Recent Headlines
06/16/21

Tickets are going fast for Friday's Dude Perfect show at Bristol Motor Speedway. While there will be a limited supply of walkup tickets available at BMS Gate 13, guests are encouraged to avoid long lines by purchasing their tickets online. Parking for the event is available for $10 per car and can be purchased at the Bristol Dragway entrance off Highway 394 or online. 

06/15/21

Fitness enthusiasts and athletes from across the Appalachian Highlands Region are encouraged to bring their gladiator spirit to Bristol Motor Speedway and compete for the cause on Saturday, August 21 during the third annual Bristol Burnout presented by Mycroft Signs fitness competition, benefitting the Bristol Motor Speedway Chapter of Speedway Children's Charities.

06/05/21

The 61st running of the Bass Pro Shops NRA Night Race, Sept. 16-18, a longtime beacon of patriotism, freedom and American pride, stands ready to deliver thrilling racing during Bristol Motor Speedway's milestone 60th anniversary season. While there will still be minimal, but necessary, safety protocols in place as recommended by the CDC, the event capacity for fans to attend will be wide open. Fans will have so much fun that the weekend should be declared a national holiday.

06/04/21

The hugely popular Cabin Fever Laser Light Show, which has been selling out venues all across the United States during the last year with its family-friendly form of entertaining illumination and graphic effects, is coming to Bristol Dragway June 10-13, it was announced today by track and show officials.
More News