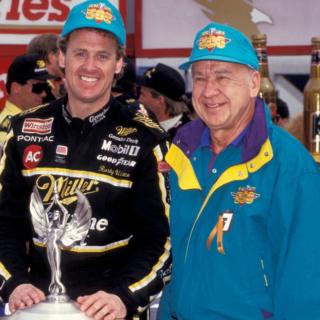 Monday May 25, 2020
When NASCAR legend Rusty Wallace thinks about his days at Bristol Motor Speedway, his head is filled with visions of personal milestones, checkered flags and record-setting performances. You see, Wallace and The World's Fastest Half-Mile fit together like a strong hand inside a sturdy glove. They were simply better together.
Recent Headlines
05/25/20

A late caution set Brad Keselowski up for victory in NASCAR's longest race—and set Chase Elliott up for a second straight crushing disappointment.

05/24/20

Bristol Motor Speedway has always been a track where certain drivers would figure out a secret and become a regular in Victory Lane, often ending in an extended winning streak. In the 1970s it was Cale Yarborough with four in a row. In the 1980s it was Darrell Waltrip winning seven in a row. The trend continued in the 1990s when a young California driver named Jeff Gordon with a background in open wheel racing proved that he had what it takes to tame the famed all-concrete high banks.

05/23/20

Of all the great things NASCAR legend Darrell Waltrip accomplished during his storied racing career, he has said that winning seven Cup Series races in a row at Bristol Motor Speedway tops the list. Waltrip and team owner Junior Johnson combined forces in the 1980s and together they made a lot of history. It was simply a winning tradition.

05/22/20

Every racetrack on the NASCAR circuit has been witness to amazing herculean accomplishments by superstar drivers. And a few of those efforts have simply transcended all of NASCAR, becoming legendary tales. One of the first unbelievable feats to ever happen at Bristol Motor Speedway and send shockwaves throughout the greater NASCAR community belonged to South Carolina racer Cale Yarborough.

05/21/20

When one takes a quick glance at the NASCAR Cup Series winners' list from Bristol Motor Speedway, there are a couple of side notes attached to the track's first two seasons - 1961 and 1962. For all of you serious stat geeks and track history buffs, your mind is about to be blown.
More News