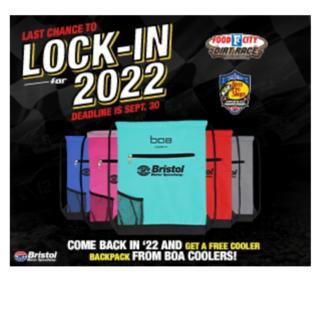 Tuesday September 21, 2021
Renew or lock in your tickets for 2022 and get a Free Gift!
Read More
Recent Headlines
09/20/21

The exciting and drama-filled Bass Pro Shops NRA Night Race Saturday at Bristol Motor Speedway was so popular with fans that it set a record in the online fan poll conducted by veteran NASCAR journalist Jeff Gluck of The Athletic that simply asks, "Was it a Good Race?" BMS now holds the top three spots in the poll.

09/19/21

Kyle Larson celebrated victory in Saturday's Bass Pro Shops Night Race with a burnout on the frontstretch at Bristol Motor Speedway, as tempers flared between Kevin Harvick and Chase Elliott on pit road.

09/18/21

The Bass Pro Shops NRA Night Race will have its traditional pre-race offering of driver intro songs tonight to pump up the crowd at Bristol Motor Speedway before the green flag drops on the Round of 16 NASCAR Cup Series Playoff race.

09/17/21

With cars bouncing off each other like pinballs through two laps of overtime, AJ Allmendinger took his No. 16 Kaulig Racing Chevrolet three-wide to the bottom, passed Justin Allgaier and Austin Cindric on the final lap and won Friday night's Food City 300 at Bristol Motor Speedway.
More News