NASCAR Drivers Enthusiastic About New Race Formats
Thursday, February 23, 2017
White knuckled, heart-pumping, intense racing every single lap! That's what's coming to Bristol Motor Speedway for the April 21-23 race weekend with NASCAR's all-new race format.  
Last month, new stage-based race formats were announced for all three NASCAR national series. Races now feature three stages and add incentives at the end of each stage, making it crucial to win not just the race but stages, too.
The first two stages will award one bonus point to the top 10 finishers, and two bonus points to the stage winner. The final stage features the standard race-winning NASCAR points, but now includes the addition of five playoff points for the winner.
Clint Bowyer and Daniel Suarez both are certain that the new stages will increase the intensity level of the entire race season.
Digging the new @NASCAR racing format. Going to be interesting to see how these stage points effect the way the teams race the entire race.

— Clint Bowyer (@ClintBowyer) January 24, 2017
Excited about the new @NASCAR format! Drive hard every lap, sounds good to me!! ??

— Daniel Suárez (@Daniel_SuarezG) January 24, 2017
When NASCAR invades the World's Fastest Half-Mile in April, the 25th Anniversary Food City 500 Monster Energy NASCAR Cup Series race will feature two 125-lap stages with the final stage being 250 laps. The NASCAR Xfinity Series Fitzgerald Glider Kits 300 features two 85-lap segments with the final stage at 130 laps.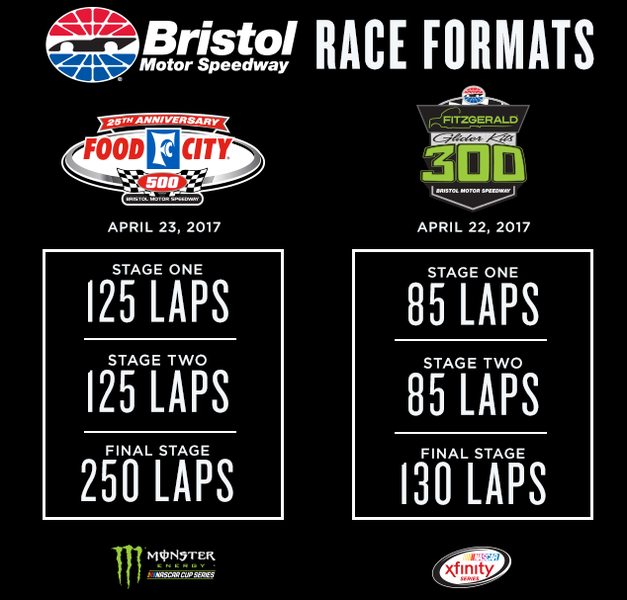 With an increased emphasis on being up front lap after lap, and having a stage win possibly be the difference in winning or losing a championship, it is sure to add to the action-packed racing at The Last Great Colosseum.
Numerous NASCAR stars and personalities are excited for the new format. A few of them have taken to Twitter to show their anticipation…
I like that they went ahead and implemented it into all 3 series!!! Showing the @NASCAR_Trucks and @NASCAR_XFINITY some love. https://t.co/NLwyGdTPMg

— Dale Earnhardt Jr. (@DaleJr) January 24, 2017
Proud to be part of the unprecedented process that created this new format. Really excited to see the impact it will have this season. https://t.co/KT6T5NhlcW

— Jeff Gordon (@JeffGordonWeb) January 24, 2017
Looking forward to the new @NASCAR changes. I believe it will be successful. #TrustTheProcess

— Ryan Blaney (@Blaney) January 23, 2017
Let's see...
WIN. WIN. WIN.
Sounds good to me!@NASCAR ??

— Jimmie Johnson (@JimmieJohnson) January 23, 2017
This is a good change for the fans, and the drivers. Quite a bit of work went out in. If u don't like it now, please give it a chance!

— Erik Jones (@erik_jones) January 24, 2017
Tickets for the April 21-23 race weekend are still available and start at $59 for one-day Food City 500 tickets and $89 for weekend packages. Kids tickets are just $10 for the NASCAR Cup Series event and FREE for the NASCAR XFINITY Series race.
Visit our Tickets Page or call toll-free at (866) 415-4158 for more information.