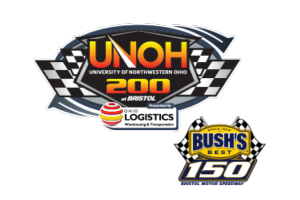 Thursday, September 17, 2020
6:00 PM

11:00 PM
NASCAR Gander RV & Outdoors Truck Series
The epic Thursday night doubleheader is back. First, the racers in the Bush's Beans 150 take on The Last Great Colosseum before giving way to the largest, most dramatic NASCAR Gander Outdoors Truck Series on the circuit, the UNOH 200 presented by Ohio Logistics.
Adult General Admission tickets are $35 while Kids tickets (12 & under) are FREE with an accompanying adult.
Please Note: Certain events may have different rules and requirements
Special Needs & Accessible Parking
State and local law officials require the person to whom a state-issued permit is issued must be in the car when the permit is used. This law is enforced at Bristol Motor Speedway. Anyone using a permit illegally will not be permitted to park in the lots and risks losing the permit.
In an effort to improve parking for guests who use state-issued accessible permits, the BMS Events Department requires advance requests to help guests park closer to their seating location.
Again, please note that Tennessee law requires a person using an accessible permit to provide documentation that the permit is issued to someone in the car parking in the assigned accessible lots. A state-issued placard/tag, supporting documentation (provided by the issuing state) and a photo ID are required.
For more information or to obtain an accessible parking permit for our NASCAR events please contact Crystal Miller at (423) 989-6941.
Wheelchair accessible parking is assigned with the purchase of wheelchair accessible viewing tickets. For information, contact Sherri Long at (423) 989-6973.
BMS provides transportation assistance FREE OF CHARGE throughout the accessible parking areas and around the track. Please visit our Parking & Shuttles page for more information.